Pork kebabs are a great way to add some variety to your summer grilling repertoire, and the vibrant Latin flavors in this kebab bowl make the perfect start to your next cookout.
The spicy, citrus-based marinade can also be used to marinate chicken or shrimp to make a variety of dishes, and the shishito peppers add a nice crunch to the dish.
Latin pork kebabs are easy to make at home just in case you feel tired of walking into a restaurant to have one. With all the required ingredients, you can perfectly bring out this meal, and trust me you will always have it on your table on a weekly basis.
Yield: 4
Latin Pork Kebab Bowl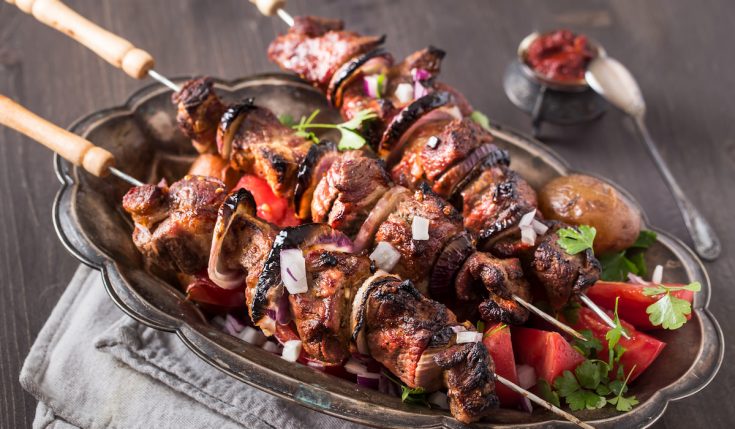 Total Time
1 hour
50 minutes
Ingredients
Marinade
Lime juice from three limes
Pinch cayenne pepper
1 large minced clove garlic
1 teaspoon of cumin
3 tablespoons of grape seed oil
2 teaspoons of brown sugar
Salt
Kebabs
Bamboo skewers
1 lb. of pork tenderloin, trimmed and sliced into tiny cubes
Bowl
2 cups of cooked rice
Lime juice from one lime
1 ½ cups of cooked pinto (you can also use black beans)
¼ cup of red onion, well chopped
1 diced avocado
Salt and pepper to add flavour
1 cup of diced papaya
¼ cup of cilantro, well chopped
Instructions
The initial step is to make marinade by mixing juice from three limes, minced garlic, cumin, brown sugar, grapeseed oil and salt in a plastic bag. The bag should be zipped and resealable, just in case there is a leakage Add the chopped tiny pork cubes and toss to form a coat. Keep them in a refrigerator for 2-4 hours.
Immerse the bamboo skewers in water and let them soak for 20-30 minutes as you do some other house chores.
In a heavy bottomed pan, boil your 2 cups of rice with 4 cups of water, salt and oil. Boil over medium heat until the water reduces and turn to low heat. Cover the pan and cook for close to ten minutes until all the water is absorbed.
Add red onions and the lime juice from half a lime into a medium sized bowl and set them aside.
Preheat your grill at medium heat 15 minutes before the pork is done marinading.
Thread the pork cubes into your soaked bamboo skewers after marinading is done and place them on the grill.
Cook them for about 5 minutes while turning both sides once or twice until they become cooked to a temperature of 145℉. Remove them from the grill and set them aside for minutes.
Add your avocado and papaya to the mixture containing juice from half a lime and red onions and then toss until they coat. Add salt and pepper for flavor.
Set your table with four bowls and serve, starting with rice, beans, avocado and papaya mix, cilantro and lastly kebabs at the top.
Nutrition Information:
Yield:
4
Serving Size:
1
Amount Per Serving:
Calories:

539
Total Fat:

16g
Saturated Fat:

3g
Trans Fat:

0g
Unsaturated Fat:

12g
Cholesterol:

83mg
Sodium:

297mg
Carbohydrates:

62g
Fiber:

13g
Sugar:

9g
Protein:

40g