Fried rice is a staple of Thai cuisine, and there are as many variations on the dish as there are Thai restaurants. The most basic fried rice is made with a combination of rice and rice noodles, so it's a great way to use up leftover rice and noodles.
This delicious dish meal contains fried rice, vegetables (such as Peas and mushroom), protein of your choice (could be chicken, mattock, beef, shrimps, eggs or any other available protein that you would like) mixed together and then fried n a savory sauce at an average time of approximately 15-20 minutes.
This meal can contain any desired flavor as it all depends with ones preferences, for example pineapple, strawberry, mango or any other flavor of one's choice.
When making the Thai fried rice, the best and perfect rice to use is left over rice because one will get a better texture of the meal since the grains are clearly separated.
The key to making great fried rice is to use a high-heat wok or frying pan (use a spatula not a spoon when stir-frying, otherwise the rice will mush up) and to pay close attention to what you're adding into the wok.
Yield: 4
Easy Thai Fried Rice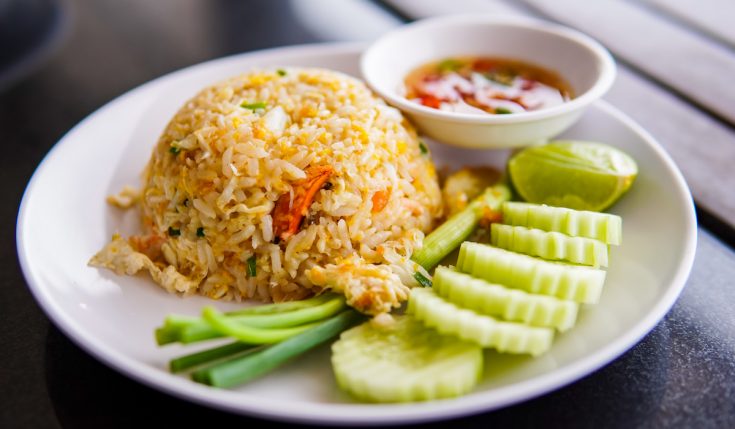 Ingredients
4 Cups of cold left over rice/already cooked but cold rice (preferably jasmine)
2 Minced clove garlic
1 Spoon of vegetable or peanut oil
½ a teaspoon of fresh minced ginger
2 Teaspoon of sauce (Soy sauce or Oyster)
2 Green onions
2 Beaten eggs
½ diced onion
Instructions
Heat the oil in a big pan in medium heat. The pan creates a surface area for cooking the meal.
Add onion, garlic and ginger then fry for about 30 seconds, then add the sliced parts of the green onion and fry it for about a minute.
Add rice, stir fry it until it is coated with oil, and fry it for about 30 seconds in order to expose the part of the rice that the heat did not reach.
Create some space either on one side of the pan or the middle then pour the eggs and scramble it fast for about 15-20 seconds.
Mix well.
Using the sauce of your choice, add it and stir fry for about 2 minutes and while on it keep adding the green section of the green onion until halfway where you will see the rice coated with the sauce.
You can use a spoon to taste and ensure that the meal is well seasoned and exposed to the heat well and if by any chance it needs more flavor, you can add more sauce.
For color, you serve garnished with a little bit of cilantro or coriander.
Notes
There are variations of the Thai fried rice and they are classified according to the ingredients and additions one has chosen to put in their meal. Ingredients that can be added to any fried rice include: Chicken, broccoli, pork, pineapple, beef, carrots, French beans, peas, bell peppers and tofu. The variations include;
Pineapple fried rice – When using pineapple, its sweetness in the meal brings out a variation of flavors in the fried rice.
Vegetable fried rice – Vegetables such as peas, broccoli and tomatoes when added to the mix form the vegetable rice.
Protein fried rice – This is the fried rice cooked with shrimps, flank steak or Tofu.
Thai basil fried rice – This is made when oyster sauce and sweet Thai basil leaves is added to the dish.
Nutrition Information:
Yield:
4
Serving Size:
1
Amount Per Serving:
Calories:

345
Total Fat:

7g
Saturated Fat:

2g
Trans Fat:

0g
Unsaturated Fat:

4g
Cholesterol:

93mg
Sodium:

62mg
Carbohydrates:

61g
Fiber:

2g
Sugar:

2g
Protein:

10g
Resources