Are you prone to go on epic meal prep runs? While most people are doing a few days or a week, are you prepping for a whole month?
It's certainly possible. We hear all the time about people grilling 30 chicken breasts at a time to set themselves up for weeks. What can you say, some people love meal prep.
When you're making food in large quantities like that, one thing you have to think about is how long certain items can last inside a fridge.
Some ingredients will hold up well, but others will go bad or turn a bit mushy after several days in the refrigerator.
The answer is often freezing your meal prep food after it has been prepared. But is that the right approach?
Let's take a look at some things you should think about when deciding to freeze or refrigerate prepped meals. We'll go over some ingredients and how you can keep your meals tasty for longer.
11 Meal Prep Ingredients that Freeze Well
Freezers are great because they free up room in your fridge and keep your items for longer.
That's critical when you're meal prepping because a big part of meal prep is that you can do it once a week or once a month and not have to worry about your food again.
It helps you stick to a diet better and cut down on food costs, for the most part.
Here are some common meal prep foods & ingredients that do well in the freezer:
Bacon
Bananas
Berries
Grilled Chicken
Meatballs
Meatloaf
Rice
Hummus
Cheese
Soups & Sauces
Lemon Zest
Bacon – Bacon gives most dishes an instant flavor upgrade, and that's why it's such a popular ingredient in meal prep meals.
It freezes well too, and when you reheat it, the fat from the bacon will go into the other food in your meal to make everything taste great.
Bananas – Plenty of meal preppers love a good shake now and then. Bananas are the perfect filler for any shake, whether you're doing a fruit smoothie or a peanut butter banana protein shake.
Let your bananas sit out until they're too ripe to eat. This gives their natural sugars more time to develop so you won't have to add any refined sugar to your shakes.
Bananas are also a great treat to keep you on your diet when you're craving a little something sweet. With frozen bananas, it takes a little longer to eat them, which is a nice hack for people watching their calories.
Berries – Ditto for berries. They hold up extremely well in the freezer and can be a fantastic treat with a little whipped cream on top.
Grilled Chicken – We're saying grilled chicken here because it is, by far, the favorite staple of many meal preppers. Most grilled meats hold up very well in the freezer. They keep their flavor and can last for months.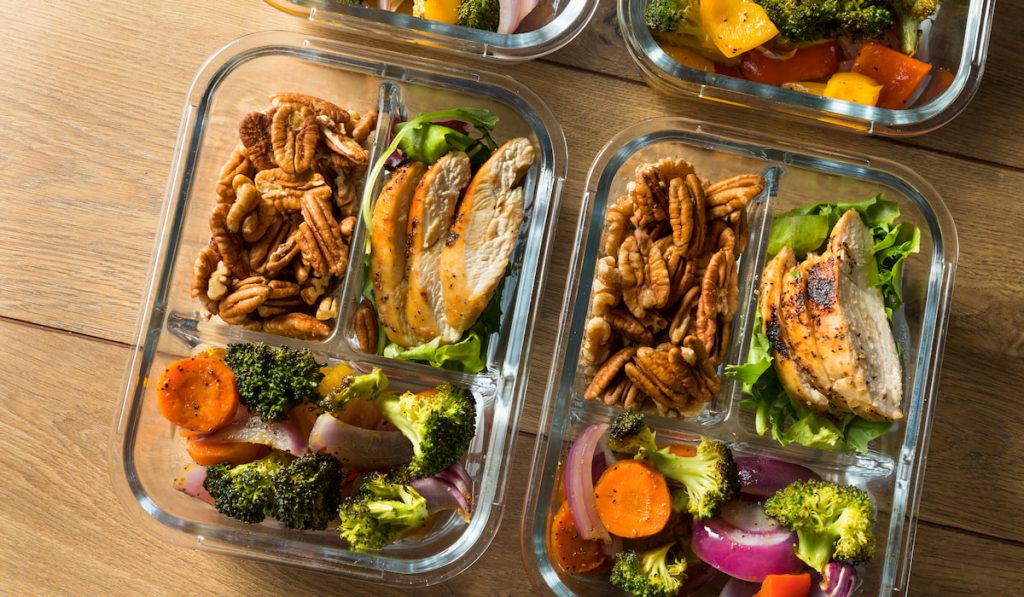 Meatballs – Meatballs are a great meal prep food that can be frozen because everyone loves them, they're easy to make, and you can make a lot of them at once.
They are awesome with some roasted vegetables, with potatoes or rice, or just by themselves. You can wrap them individually in foil or you can put them in an air-tight container, depending on their size.
Meatloaf – While we're talking about meat, we may as well give meatloaf an honorable mention. This is essentially meatballs in brick form, perhaps with a bit of ketchup or bbq sauce on top.
Rice – Rice takes a while to cook, so it's a good thing it holds up well in the freezer. Pro tip – sprinkle a bit of water on your frozen rice before you stick it in the microwave. That will stop it from getting too dry.
Hummus – Hummus is a fantastic way to add salt and flavor to any dish. A lot of grocery stores sell large containers of hummus at more affordable prices. Simply buy the larger tub and portion it out before sticking it in the freezer.
Cheese – The same thing goes for cheese. You'll spend a lot less money on cheese if you buy large bricks of it. Cut it up into meal-sized portions and freeze it.
Anything Saucy – Sauces do very well in the freezer. You may have to drain a bit of water once they're thawed, so just be aware of that when you're heating a meal.
Anything in liquid form you can probably freeze with peace of mind, including things like soups and stews.
Lemon Zest – Pretty much anyone who has cooked has gone to the grocery store, bought more lemons than they need, and had them rot on a counter or in the fridge.
Instead of repeating this sad cycle, shave off lemon zest and freeze it in a Ziploc bag.
These are just some of the foods that sit well in the freezer for up to weeks at a time. They'll make meal prep a lot easier because you can make more meals in one go and you won't have to worry about things going bad in the fridge.
6 Meal Prep Ingredients that Do Not Freeze Well
There are two sides to every coin. In your meal prep journey, you're going to find some ingredients that will hold up well in the freezer and others that won't.
Here are some foods and ingredients that you should keep in the fridge instead.
Anything Fried
Leafy Vegetables
Avocados
Anything with a lot of Diary
Potatoes
Cottage Cheese
Fried Foods – If you're frying food in your meal prep, keep it in the fridge. Freezing it will make the breading wilt and turn mushy.
Leafy Vegetables – Only keep foods like kale or spinach in the freezer if you're putting them in smoothies. Don't try to freeze a whole salad because it will become saturated with water.
Avocados – We've all seen what happens to avocados that are in the fridge too long. Putting them in the freezer only speeds up the process. If you want to keep your avocados from becoming brown and mushy, stick with the fridge.
Dairy – Foods like sour cream, milk, and other creamy delicious treats aside from, obviously, things like ice cream, should be kept in the fridge. It will go bad and turn clumpy in the freezer.
Potatoes – This is mostly for raw potatoes, but can also happen if you make fries in an air fryer, etc. Freezing potatoes can turn them grainy. It's ok to freeze something like mashed potatoes, but that's pretty much it.
Cottage Cheese – Again, sticking something like cottage cheese in the freezer will separate all of the water out of it and leave it mushy and unsavory. It's better off in the fridge.
Meal prep is about learning with a bit of trial and error. None of these rules are set in stone. Different foods will react differently based on how long you keep them in the freezer. Give it a shot and see what happens. Stick with what works.
Resources