Is it possible to get toned abs in a few weeks?
Although electrical muscle stimulation has been around for years, some ab belt brands have recently claimed that you can trim those abdominal muscles in a matter of weeks.
The Flex Belt and Slendertone are two well-known ab belt brands, but how do the two compare against each other?
Our detailed guide covers everything you need to know about these two belt brands including their features, technology, and other relevant factors to let you know which is better in 2022.
Flex Belt: What is it?
The Flex Belt is a wearable ab belt manufactured by Bio-Medical Research Limited based in Ireland. The brand is famous for its toning products. Its belt promises to help you achieve a tightened and toned midsection.
One thing to note is that Slendertone is the company that manufactures Flex Belt. Although Slendertone, a company that also belongs to Bio-Medical Research Limited does manufacture Flex Belt, it doesn't distribute it.
It was the first belt approved by the US Food and Drug Administration to use electronic muscle stimulation for direct consumer sales.
What Technology Does Flex Belt Use?
The Flex Belt uses EMS or electrical muscle stimulation technology.
Electrical muscle stimulation is also used by physiotherapists and in muscle rehab clinics to send electrical signals to targeted muscles. The signals replicate muscle relaxation and contraction. The signals are transmitted through electrodes that are in direct contact with your muscles.
The Flex Belt's EMS technology allows your muscles to contract and relax automatically without doing any intense workout. Intensity levels can be adjusted by the user and the belt is considered safe.
How is Flex Belt Used?
You need to wrap the belt around your waist. The belt has three medical-grade gel pads fitted inside the belt. Electrical impulses are transmitted to the abdominal region through the pads. There's a controller attached that allows you to control the intensity.
These pads help with the contraction and relaxation of abdominal muscles, which in turn stimulates ab movements associated with exercise.
What Features Does Flex Belt Have?
Flex Belt has some features that make it outstanding. These include:
Exercise Programs
The Flex Belt has ten exercise programs. These programs range from beginner level to expert level, depending on the user's experience, intensity threshold, and activity level.
The programs are varied to ensure that you don't stick to one workout routine. You'll find the length of muscle contractions is different and certain programs are more intense than others.
These exercises run for 20-40 minutes and feature rest periods, repetition ranges, and several sets.
Intensity Levels
The Flex Belt has 150 intensity levels that allow the user control and precision. You can choose an intensity level that you're comfortable with based on your fitness.
Money-Back Guarantee
The manufacturer supports its claims by offering a 60-day money-back guarantee for those not completely satisfied.
According to the manufacturer, you should start seeing results in four to eight weeks.
Other Features
The Flex Belt also has an extension that accommodates people with a wider waist.
Additionally, Flex Belt provides online access to a meal planning program, which also comes with a free one-year subscription to a health magazine and a free box of a weight-loss supplement.
Is the Flex Belt Effective?
The Flex Belt is FDA-approved to support its claims to help with midsection firmness and weight loss.
Another study done by Dr. John Porcari and published in the Journal of Sports Science and Medicine revealed that individuals who used the belt for 20-40 minutes, 5 days a week for two months had improved abdominal endurance and strength.
The study also discovered that the participants had improved posture and reduced waist and abdominal circumference.
Who Can Benefit from the Flex Belt?
The Flex Belt is beneficial to anyone looking to tone, strengthen, and firm their abdominal muscles.
However, the belt would also come in handy for individuals:
With joint problems that can't handle regular core strengthening muscles
Suffering from lower back pain and those with mobility issues
Recovering from surgery or injury
Looking to add a variety to their training program
Note that the manual indicates that users should get a doctor's permission before using the Flex Belt.
Are There Advantages of Using Flex Belt?
Some of the benefits of using the Flex Belt include:
Simple to use. You only need to slip it on, choose your intensity level, and have it on for 20-30 minutes daily.
Can be worn on the go. That works for people with a busy schedule.
Proven results based on clinical trials and testimonials.
Ability to firm, tone, and strengthen abdominal muscles.
FDA-Approved
Comes with a 60-day money-back guarantee
Two-year warranty
Are There Downsides to Using Flex Belt?
Not really, but it's worth noting that the belt is not a weight-loss tool. It only helps to tone and firm your abdominal muscles. For you to see the abs, you'll need to include a cardio workout and eat a healthy diet. The Flex Belt should only be used to supplement your workout.
The Cost of the Flex Belt
The Flex Belt Package retails at $199.99. You can purchase the belt directly from their site or get it on Amazon.
The package includes:
An instruction manual
Flex belt and gel pads
A rechargeable power supply unit
Belt extender to accommodate waist 24-52 inches
You can get replacement chargers, controllers, and batteries from their official site. You also need to replace the gel pads after 30 sessions. The package comes with a 2-year warranty.
Slendertone: What is it?
Slendertone is another line of ab belts that promises to help you achieve a tight, toned, and flat midsection. The brand is also manufactured by Bio-Medical Research Limited.
The line consists of three models with varying price points. These include:
Abs5 Toning Belt
Abs8 Toning Belt
Connect Abs Toning Belt
What Technology Does Slendertone Use?
Slendertone uses electrical muscle stimulation technology, which is similar to the Flex Belt. Their Connect Abs Toning Belt is the most powerful of all three models in terms of toning intensity.
It has a control unit fixed to the waistband. The inside has three medical-grade replaceable gel pads. Users can control the belt with an app that's available on both Android and iOS.
The other two models are not controlled through an app and they don't provide progress tracking. They also don't offer constant toning reminders.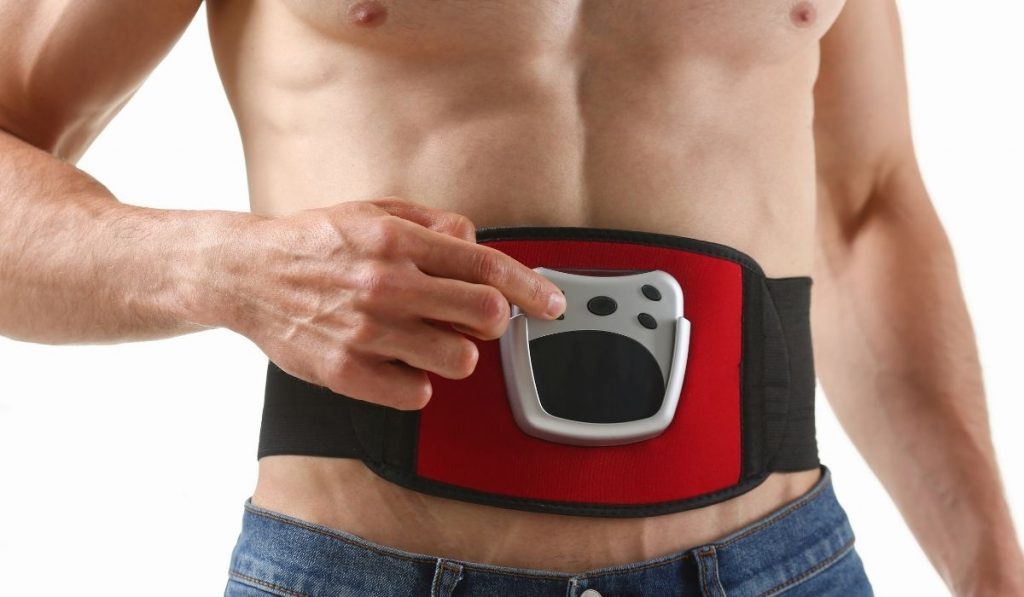 Features of the Slendertone Belt
Slendertone also has features like:
Exercise Programs
The Abs5 and Abs8 toning belts come with ten exercise programs. However, these programs are limited and don't have progress reminders and tracking.
The Slendertone Connect Abs belt has five exercise programs. Each of these programs caters to a particular toning goal. That includes postnatal, advanced toning, essential toning, fitness, and upcoming event.
Additionally, each program has a fixed, six-week duration apart from the upcoming event. With the upcoming event, you can set your desired duration.
New moms will benefit from the postnatal program as it's designed to help them get in shape post-pregnancy. The other programs range between 20-30 minutes and vary in duration and difficulty.
Intensity Levels
With the Slendertone Connect Abs, you can choose from 100 different intensity levels. However, this depends on your intensity threshold, your experience, and your goal.
Is the Slendertone Belt Effective?
Research done in 2005 sought to examine the effects of Slendertone on endurance, strength, and body measurements.
Individuals who used Slendertone had improvements in their abdominal endurance, abdominal strength, and waist circumference over eight weeks.
Those in the EMS group thought that the technology had helped firm and tone their midsection, but EMS did not work for their skin thickness, body weight, or BMI.
Who Can Use Slendertone?
Slendertone is designed for any individual looking for toned abdominal muscles and anyone who wants to achieve their fitness goals.
Slendertone belts are also ideal for new mums who want to feel firmer and get their abdominals back in shape after pregnancy. Individuals with a busy schedule and those who spend most of their time sitting will also find this belt beneficial.
Anyone looking to maximize the benefits of their workout will love Slendertone as it provides an effective way to tone abs without traditional ab exercises.
The Cost of Slendertone
Slendertone has two different models.
The CoreFit Toning Belt is USB rechargeable and retails at $129.99 without shipping.
The Connect Abs Toning Belt shares a similar design with the CoreFit Toning Belt and can be controlled by an app and linked to your phone. Users can choose from five different programs that include postnatal, upcoming events, fitness, essential toning, and advanced toning.
The cost of the Connect Abs Toning Belt is $199.99.
You also need to replace your gel pads after 30 sessions. These pads are available from the website.
Flex Belt vs. Slendertone: Which is Better?
Both the Flex Belt and Slendertone are approved by the FDA and use electrical muscle stimulation technology. They both come with a two-year warranty, rechargeable batteries, and adjustable intensity levels.
However, these two ab belts have their differences.
The Flex Belt has 150 intensity levels, while the Slendertone has 99 levels. The maximum weight size for the Slendertone is 47 inches, while Flex Belt fits up to a 56-inch waist.
Slendertone has an in-built battery, while the Flex Belt has an external rechargeable battery. Additionally, Flex Belts are more expensive than Slendertone belts.
Anyone looking for an affordably-priced ab belt with a waist that is 47 inches or less can opt for Slendertone belts. However, if you have a wider waist than 47 inches or more, you're better off with a Flex Belt. Individuals who are not into in-depth exercise are better off with Slendertone.
However, if you're looking for an abs belt with more intensity levels that allows you to set your goals and get firm and toned, you should opt for the Flex Belt. The extra extension makes a huge difference.
Furthermore, Flex Belt has access to a meal planning program, a weight-loss supplement, and a one-year subscription to a health magazine.
Unlike Slendertone which has regular adhesive gel pads, the Flex Belt comes with medical-grade pads.
You should note that using FlexBelt alone won't give you the desired results. A healthy diet combined with physical activity is crucial.
Sources