Lentils, Lens culinaris or Lens esculenta, are edible leguminous lens-shaped seeds. The seeds grow in pods with two seeds in each pod.
I have always enjoyed them in soup and, funny enough, they can often be found in some soup recipes which is how I first discovered them.
Lentils are rich in fiber and proteins and have low amounts of fats. Additionally, they contain phosphorous, folate, potassium and iron.
Another great thing about them is they whip up very easily and are a favorite with the kids. They are easy to chew and can be flavored in a variety of different ways.
Types of Lentils
There are three major types of lentils. These include:
Brown Lentils
They are black or brown in color.
They have a slight, earthy taste and hold their shape well.
Become mushy when overcooked.
French Green
They are crunchy and have a spicy flavor.
They are a good additive in salads.
Red Lentils
They are brown Massor lentils when the hulls are removed.
Of the three types, I typically use brown lentils in soups and dishes like this.
Five Benefits of Lentils
They are a good source of potassium, folic acid, and fiber. Nutrients reduce the risks of cardiovascular diseases.
Lentils have high amounts of folate which prevents neural tube defects in babies and also prevent gestational diabetes.
Lentils contain selenium which reduces the rate of tumor growth hence reduces the risks of cancer attack. Lack of iron in the body causes fatigue.
Lentils provide a type of iron called nonheme which helps in fighting fatigue.
Amounts of fiber intake found in lentils help in preventing constipation increase the feeling of fullness and reduces appetite which in turn reduces the amount of calorie intake.
Yield: 4
Lebanese Warm Lentils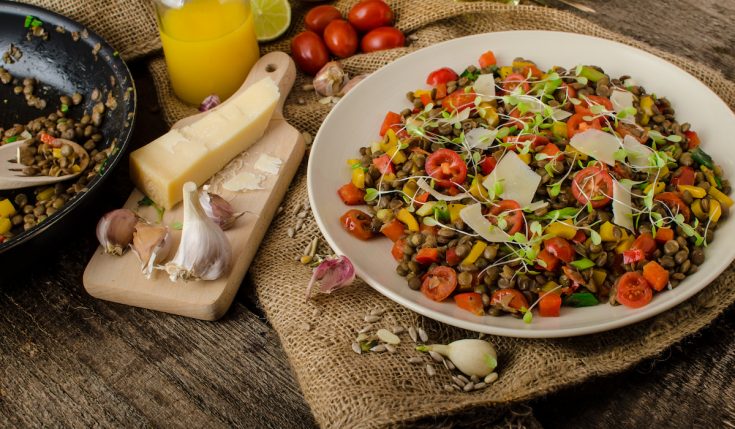 Additional Time
5 minutes
Ingredients
1 cup of dried brown lentils
2 tablespoons of grapeseed oil
8 garlic cloves
½ cup of fresh parsley leaves
3 tablespoons of freshly squeezed lemon juice
1 cup of arugula leaves
¼ cup of fresh mint leaves
2 teaspoons of cumin
3 tablespoons of olive oil
½ teaspoon of salt
¼ teaspoon of allspice
½ teaspoon of ground black pepper
Instructions
Measure out your lentils by placing them in a mesh, wash and rinse with cold water then pick out any stones or remains.
Place the washed lentils in a sauce pan and three cups of water. Simmer over medium heat. Cook for 30-40 minutes.
Mince 8 garlic cloves using a food processor then heat the grapeseed oil over medium heat till small pieces of heat sizzle when tossed in the pan. Reduce the heat to low and add the minced garlic. Sauté till the garlic turn to golden brown (takes a maximum of 8 minutes). Set them aside.
Chop the fresh parsley, arugula and mint and then set them aside.
Mix together the cumin, olive oil, salt, lemon juice, black pepper and allspice in another bowl.
Remove the lentils from the heat and drain any excess liquid once the lentils are tender. Return them to the pan and the mixture containing olive oil. Mix them thoroughly.
Fold in the fresh parsley, mint, and arugula. Add salt and pepper if interested.
Serve warm, accompanied by any dish of your choice.
Notes
Feel free to experiment. I usually serve this with the greens on the side so everyone can add as much or little as they want and toss their own bowls.
Nutrition Information:
Yield:
4
Serving Size:
1
Amount Per Serving:
Calories:

226
Total Fat:

18g
Saturated Fat:

2g
Trans Fat:

0g
Unsaturated Fat:

15g
Cholesterol:

0mg
Sodium:

275mg
Carbohydrates:

14g
Fiber:

5g
Sugar:

1g
Protein:

5g
Disadvantages of Excessive Consumption of Lentils
Too much fiber intake causes flatulence and constipation.
Lentils also have fermentable starch which may cause in the digestive tract symptoms for those with irritable bowel syndrome.
Resources